BAKERIES
There are numerous famed franchise bakeries such as Tous les Jours, A Twosome Place, Paris Baguette and An's Bakery. As you walk around Songdo, try few local bakeries that offer excellent breads and pastries. Following are my recommendations:
Cing Valeur: A German and French bakery offering sweet pastries/cookies and savory buns/breads; it's famed for Salt Bread; I love the meringue cookies (it's the closest texture and taste to the ones I'm used to in US)  and cinnamon rolls; it has a cozy sitting area to enjoy your cookies and fresh brewed coffee.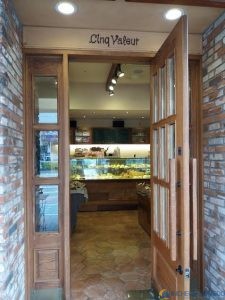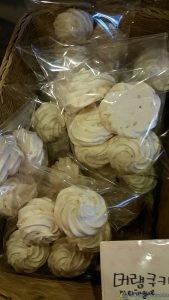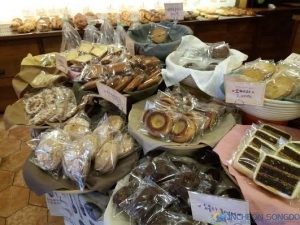 J's Recipe:  A European bakery famed for the Squid-ink bread; I love the scones and savory breads.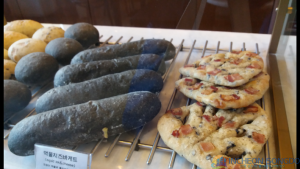 Rice Cake Shops:
Traditionally, sticky rice cakes are shared and consumed during birthdays, weddings and New Year/Harvest holidays. There are numerous rice cake shops; unlike the popcorn-like varieties in US, the rice cakes are sticky and mildly sweet; if you have dentures, choose more grainy type of rice cake called Rainbow or Birthday rice cake (pictured left, top row on plate); always have sticky rice cakes with some form of liquid, since you can choke on it easily from the stickiness; my favorite is the green Mugwort herbal (green ones on both plates) rice cake.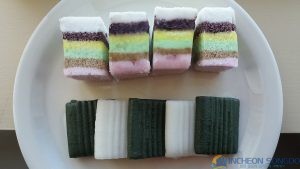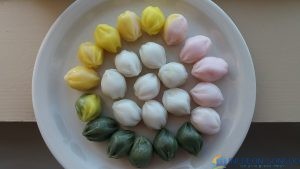 Sangsiru:  www.sangsiru.com  I really enjoy the Korean traditional cake from this rice cake bakery; rice cakes are packaged in perfect portion for a snack or a light meal. Freshly made rice cake dumplings can be bought for making traditional New Year rice cake soup.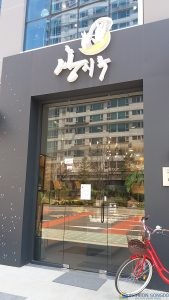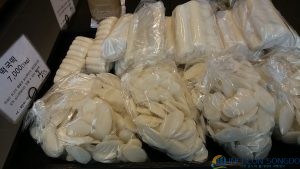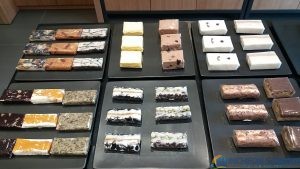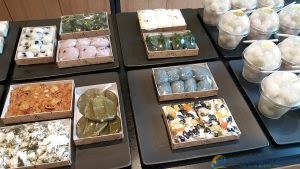 CAFES
As of February 2018, it was reported that a  S. Korean coffee patron drinks on average 512 cups of coffee per year; hence, the coffee baristas galore! A cup of joe will cost anywhere from $1.00 at McDonald's to $8.00 java in specialty cafes with artfully crafted creme on top. I love discovering quaint cafes with unique ambiance. Be aware, there are no artificial sweeteners in majority of Korean coffee shops; if you are a diabetic or utilize a sweetener, bring your own; also, there's no choice of half & half or skim milk; as of now, it's full-fat creamer or whole milk. Instead of usual Starbucks or Dunkin' Donuts, venture out to one of numerous coffee shops and delve into variety of coffees and teas.
Cafe LaLee: www.cafelalee.com  Cafe LaLee is known for English tea party ambience with dainty cups and saucers; it is located in the Summer block of NC Cube Canal Walk; it is pricey but worth a trip for special occasions or visitors for its tasty cakes and sweets.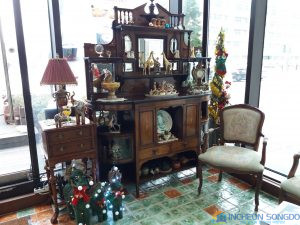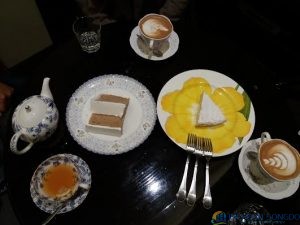 LQL Turquoise Cafe: I frequently visit Turquoise to enjoy my favorite cup of coffee, hot Guatemalan Vienna coffee. It's located at the street level of PrugioCity Building A (Artcenter dae-ro 203 #103).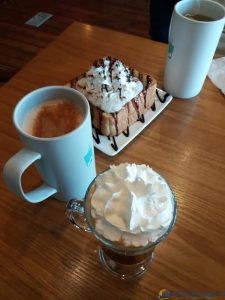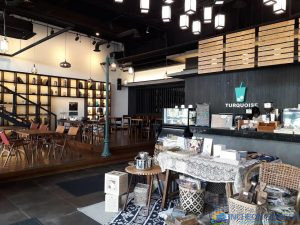 Hollys Coffee: A cafe in Hanok Village; overlooking the Central Park, seated in a comfy lounge chair/sofa, you can enjoy good coffee/tea and sweet desserts.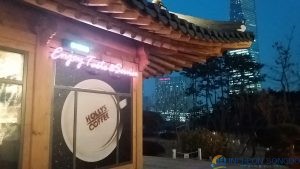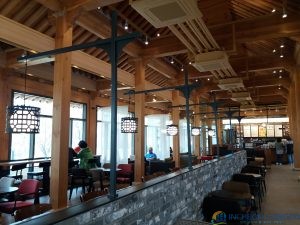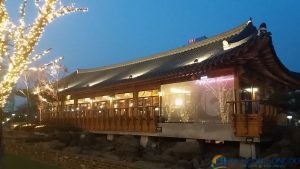 Cafe JARB: A cafe in G-Tower adjacent to the Art Gallery: walk up a flight of stairs by the main lobby desk; it has cute seating areas in and outside of the cafe; pricey, strong coffee is served by staff speaking in fluent English.
NC Cube Canal Walk Cafes: There are so many good cafes with varied price range in NC Cube Canal Walk; try a few as you take breaks in between shopping.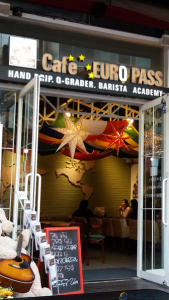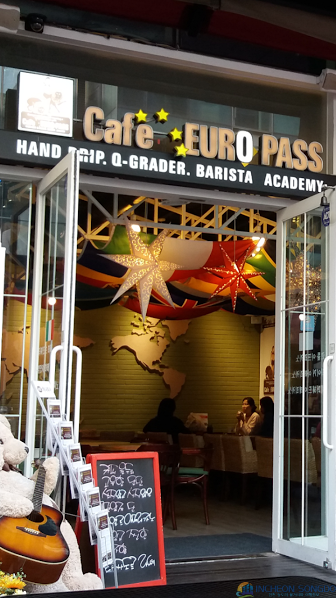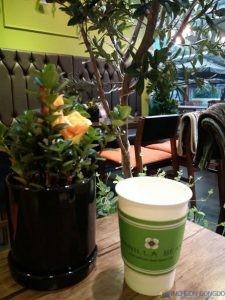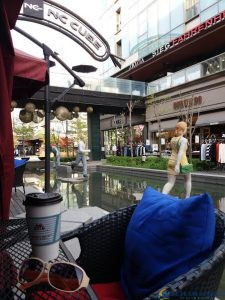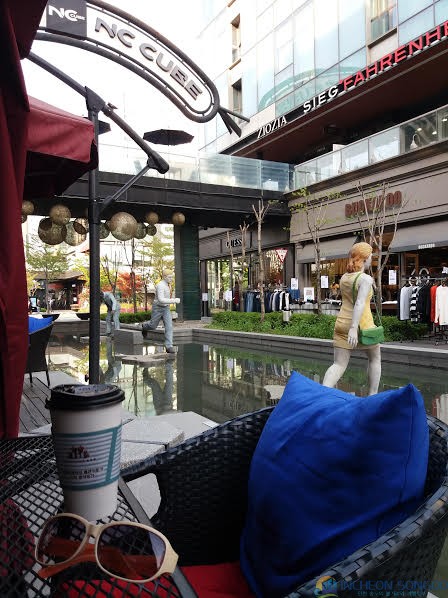 This cafe/diner (pictured below), located at the Winter block, offers frugally priced coffee (a small cup of Americano is about $1.50) and appetizer-like Korean dishes; so far, it offers the best donkatsu (crisply fried-pork cutlet) that I've tasted; it's popular amongst young patrons.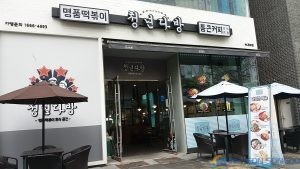 Okrumong: www.okrumong.com  Located in the Fall block of NC Cube Canal Walk, this cafe offers the traditional sweet red-bean pasted desserts; the red bean paste is made fresh daily in a traditional Korean caldron and served in crispy cookies or as a topping for shaved ice dessert. Try the pumpkin or red bean soup; I'd consider them as dessert rather than soup, since there're quite sweet.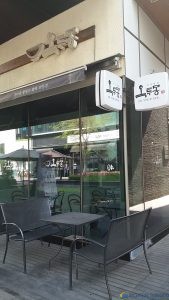 Touch Cafe: Found this little price-friendly self-help cafe; met the owner on the day of visit and she said the self-help cafes are gaining popularity; it's soley based on trust system that the customers take only what's paid for and keep the cafe clean and welcoming. The cafe is pleasingly quiet with charging stations for laptop/cell phone. It has two vending machines, each offering different brand of coffee. You can choose from hot or ice coffee and the instruction to make it is easy to follow. It's located by the An's Bakery on Conventia Dae-ro (nearby Sheraton Hotel).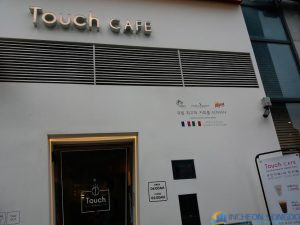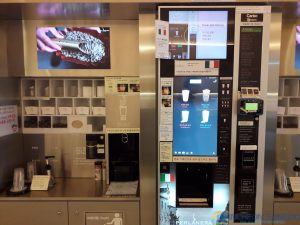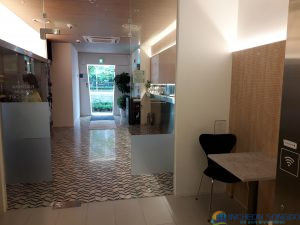 Paik's Coffee: If you want to save few bucks, try Paik's Coffee; you can find one in almost every block of Songdo; Mr. Paik is a food-network gru who founded this chain cafe for frugal coffee patrons; you'll get an upgrade on size for the same buck but the taste is what you pay for.