BAKERIES
There are numerous famed franchise bakeries such as Tous les Jours, A Twosome Place, Paris Baguette and An's Bakery. As you walk around Songdo, try few local bakeries that offer excellent breads and pastries. Following are my recommendations:
Tarr Tarr:  At first bite, I fell in love with the grapefruit tart! Not too tart, not too sweet…just perfect with a cup of Americano. It's one of most popular items in this bakery/cafe. The strawberry tart (while in season) and egg tart are the other favorites. I find the egg tart a little too rich, but that's just me. It's a franchise, so I'm very glad that there's one in Incheon Songdo. It's located in Honestar building, wedged between Hyundai Outlet and HomePlus.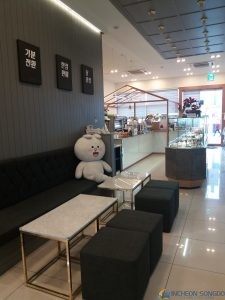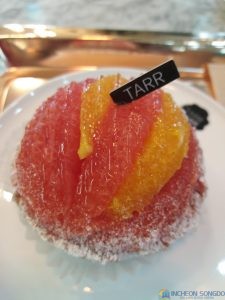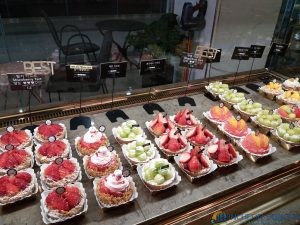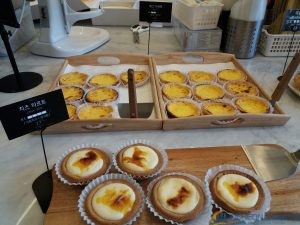 Cing Valeur: A German and French bakery offering sweet pastries/cookies and savory buns/breads; it's famed for Salt Bread; I love the meringue cookies (it's the closest texture and taste to the ones I'm used to in US)  and cinnamon rolls; it has a cozy sitting area to enjoy your cookies and fresh brewed coffee.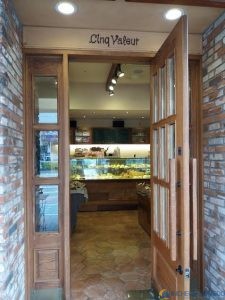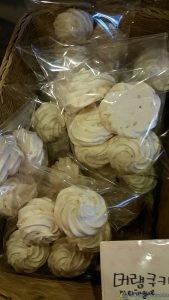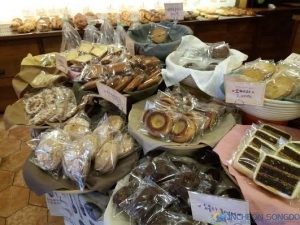 J's Recipe:  A European bakery famed for the Squid-ink bread; I love the scones and savory breads.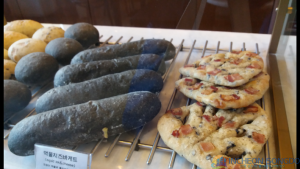 Rice Cake Shops:
Traditionally, sticky rice cakes are shared and consumed during birthdays, weddings and New Year/Harvest holidays. There are numerous rice cake shops; unlike the popcorn-like varieties in US, the rice cakes are sticky and mildly sweet; if you have dentures, choose more grainy type of rice cake called Rainbow or Birthday rice cake (pictured left, top row on plate); always have sticky rice cakes with some form of liquid, since you can choke on it easily from the stickiness; my favorite is the green Mugwort herbal (green ones on both plates) rice cake.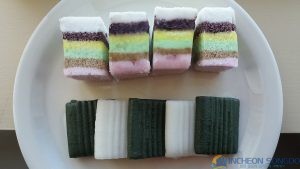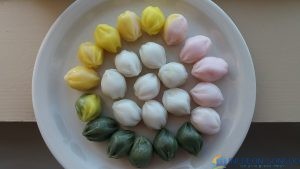 Sangsiru:  www.sangsiru.com  I really enjoy the Korean traditional cake from this rice cake bakery; rice cakes are packaged in perfect portion for a snack or a light meal. Freshly made rice cake dumplings can be bought for making traditional New Year rice cake soup.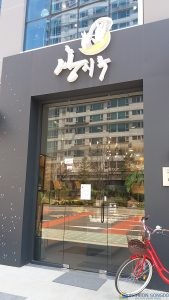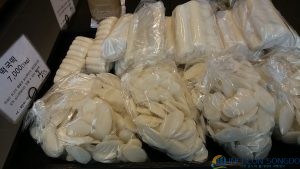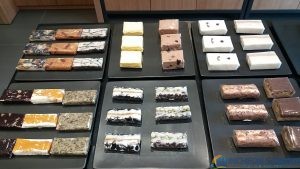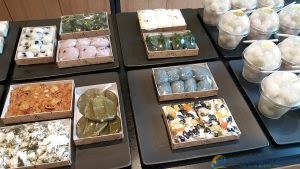 CAFES
As of February 2018, it was reported that a  S. Korean coffee patron drinks on average 512 cups of coffee per year; hence, the coffee baristas galore! A cup of joe will cost anywhere from $1.00 at McDonald's to $8.00 java in specialty cafes with artfully crafted creme on top. I love discovering quaint cafes with unique ambiance. Be aware, there are no artificial sweeteners in majority of Korean coffee shops; if you are a diabetic or utilize a sweetener, bring your own; also, there's no choice of half & half or skim milk; as of now, it's full-fat creamer or whole milk. Instead of usual Starbucks or Dunkin' Donuts, venture out to one of numerous coffee shops and delve into variety of coffees and teas.
Cafe LaLee: www.cafelalee.com  My favorite cafe, with most scrumptious cakes, is known for English tea party ambience with dainty cups and saucers; there are two Cafe LaLee in Incheon Songdo; the one I frequent is located near Lotte Mart (pictured); the other one is located in the Summer block of NC Cube Canal Walk; it is pricey but worth a trip for special occasions or visitors.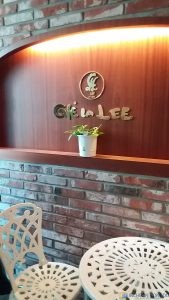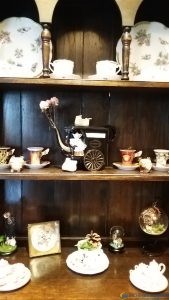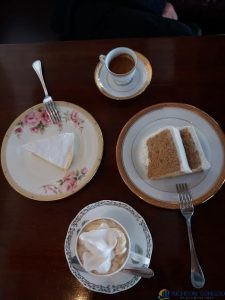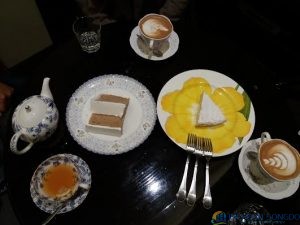 Hollys Coffee: A cafe in Hanok Village; overlooking the Central Park, seated in a comfy lounge chair/sofa, you can enjoy good coffee/tea and sweet desserts.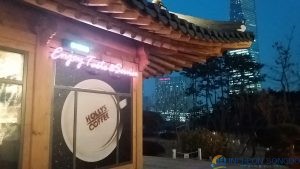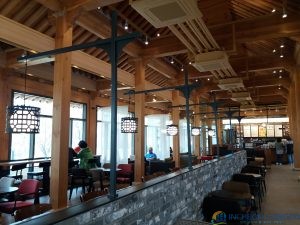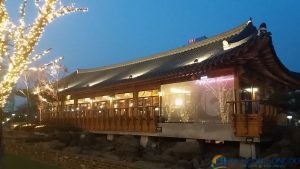 Cafe JARB: A cafe in G-Tower adjacent to the Art Gallery: walk up a flight of stairs by the main lobby desk; it has cute seating areas in and outside of the cafe; pricey, strong coffee is served by staff speaking in fluent English.
Morning Delight: Found in the Triple Street mega-mall; serves good coffee by friendly staff; it's also known for good beer and burgers; I'll post a review after trying it out.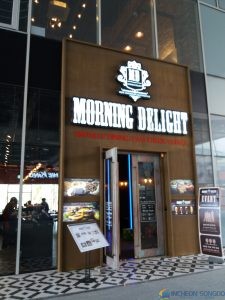 NC Cube Canal Walk Cafes: There are so many good cafes with varied price range in NC Cube Canal Walk; try a few as you take breaks in between shopping.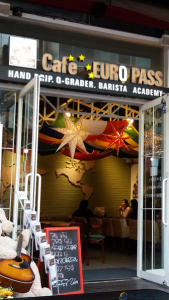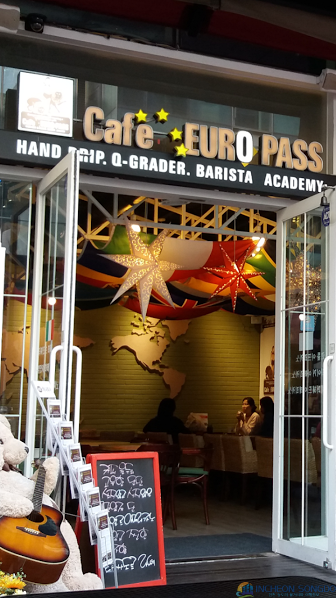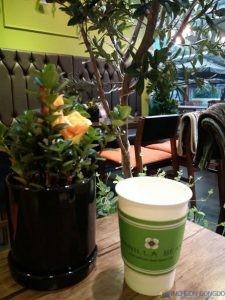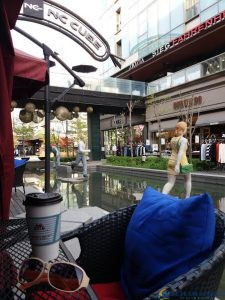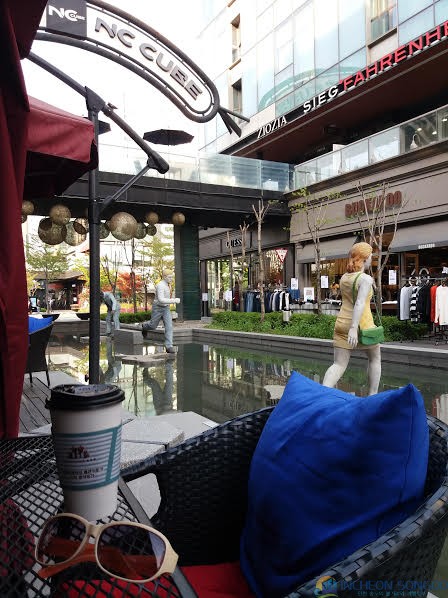 This cafe/diner (pictured below), located at the Winter block, offers frugally priced coffee (a small cup of Americano is about $1.50) and appetizer-like Korean dishes; so far, it offers the best donkatsu (crisply fried-pork cutlet) that I've tasted; it's popular amongst young patrons.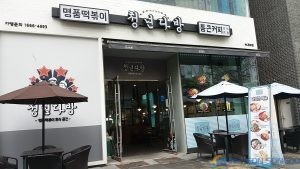 Coffee Hole: One of my frequently visited cafe, it's located in the Winter block of NC Cube Canal Walk; it has good coffees and teas; from the very first visit, the owner has made all my requests to make a perfect cup of coffee for me with the sweetest disposition.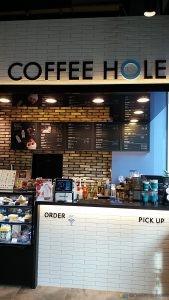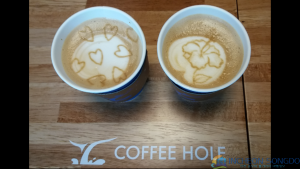 Okrumong: www.okrumong.com  Located in the Fall block of NC Cube Canal Walk, this cafe offers the traditional sweet red-bean pasted desserts; the red bean paste is made fresh daily in a traditional Korean caldron and served in crispy cookies or as a topping for shaved ice dessert. Try the pumpkin or red bean soup; I'd consider them as dessert rather than soup, since there're quite sweet.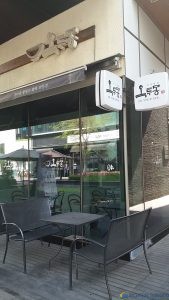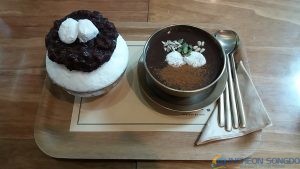 Paik's Coffee: If you want to save few bucks, try Paik's Coffee; you can find one in almost every block of Songdo; Mr. Paik is a food-network gru who founded this chain cafe for frugal coffee patrons; you'll get an upgrade on size for the same buck but the taste is what you pay for.