Ready to EXPLORE Songdo Incheon?
Whethere you plan for a day-trip or have a flight/cruise layover, let's pack in as much fun as you can. AND forever keep Songdo in your heart!
G-Tower: Incheon Free Economic Zone (IFEZ) building.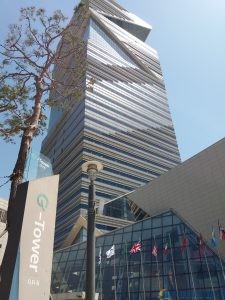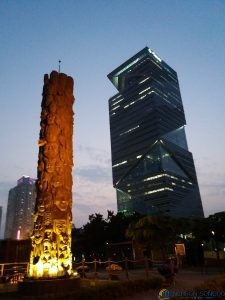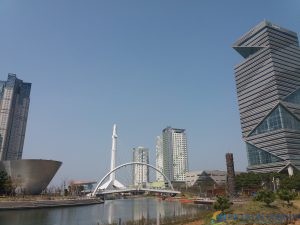 The observation deck on 33rd floor (indoor) will impress you with 360 degree view of entire Songdo Incheon; take a self-guided tour, get a Songdo souvenir and be impressed with the history/vision of Songdo. Want to take some outdoor pictures? Take the elevator down to the lounge level and walk over to the east side elevators to 29th floor outdoor garden deck…I was awed by the view of magnificent South Korea's longest spanning bridge (13.28 miles) to the Incheon International Airport. Walk over to the east side of deck and you'll be treated to an overview of Central Park and surrounding majestic high-rise buildings. On weekdays, I frequently dine at the employee cafeteria on the 29th floor, the same floor as the oudoor deck. For about $5.00, I can choose from two choices (in buffet style) of nutritionally balanced array of Korean foods or Western style foods; on sunny days, I'd get a cup of coffee from the lounge level coffee shop (located on the same hallway as the post office on lobby floor) and sit at a patio on 29th floor garden deck; I'd seep my coffee and bask in the sun.
33rd Floor I-Vision (Indoor Deck): Open Mon-Fri 10AM-8PM; Sat/Sun/Holidays/10AM-6PM
29th Floor Sky Garden (Outdoor Deck): Open Mon-Fri 10AM-7PM; closed on Sat/Sun/Holidays
29th Floor Cafeteria: Open Mon-Fri 11:30AM-1:15PM (Closed on weekends and holidays); it also offers dinner, but I'd recommend only the lunch.
Looking down into Central Park from 29th floor outdoor patio.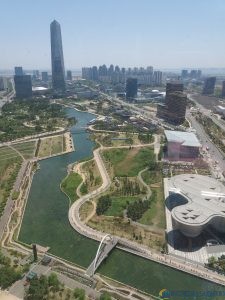 29th Floor cafeteria; lunch with a view.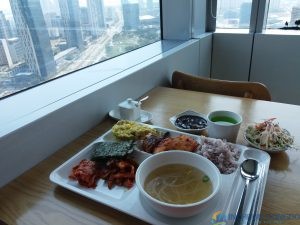 An art gallery with rest area.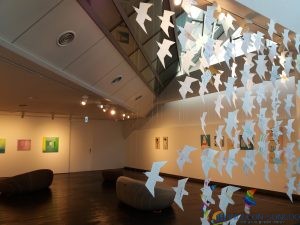 A night view of G-Tower.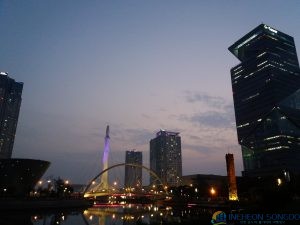 2) The Central Park: Exit out of southeast entry doors of G-Tower and you'll walk onto the Central Park, one of seven lovely parks in Songdo; the park walkway runs along a man-made stream with beautifully landscaped garden abound; I finally got to experience the beauty of "snowing" of cherry blossom petals; I take a walk in this park twice a day, being amused each time taking pictures at different angles and at different hour of the day; at the east boathouse, numerous family/kid-friendly water/land excursions are available: Kayaking/Pedal-boating/Cruising/Family-biking; I can't help but smile as I watch the families/friends/lovers of all age take in all that the Central Park has to offer.
A view from the 2nd floor look-out deck of East Boathouse.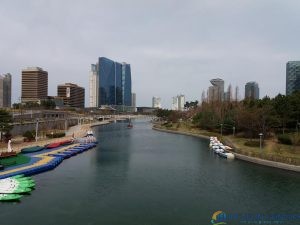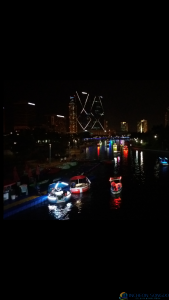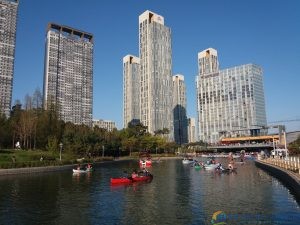 Deer Park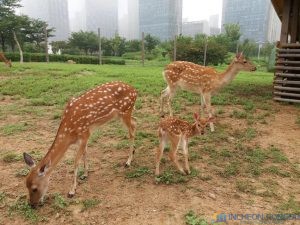 Art and gardens of Central Park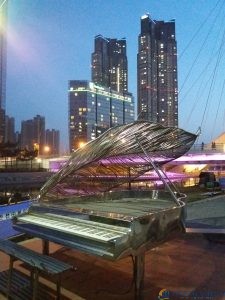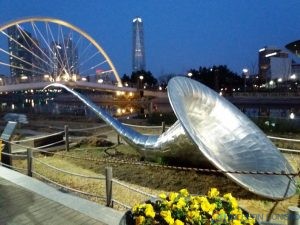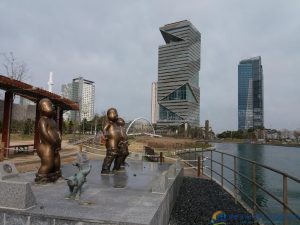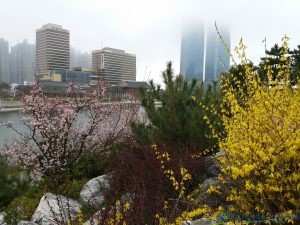 3) NC Cube Canal Walk: An outdoor mall centered around canals with whimsical statues and waterwork. I don't like to shop, so I didn't visit the NC Cube Canal Walk until much later; now, I regret that I didn't visit sooner. A European style outdoor mall with international retail stores offering everything from shoes, clothes to make-up. I was most impressed with the variety of restaurants/coffee shops AND fun canals at the center. It is four blocks long and named with four season of Spring, Summer, Autumn and Winter (when addressing a desitination, one refers to the season for location); each block (season) has its own canal with artsy, whimsical statues/figurines. Most of the restaurants are located on the upper floor as the cafes rule the main level. On weekends, mini concerts/fairs and side-walk sales entise and entertain many young families and couples on a date. My daily morning walk now ends at the NC Cube Canal Walk with an order of cafe-latte. I love people-watching; it's a perfect spot to sit in one of many parasoled sitting areas as I watch all sort of visitors and sip my latte.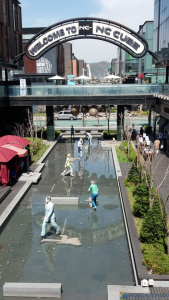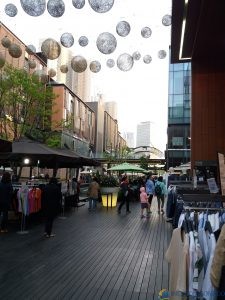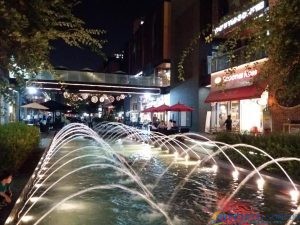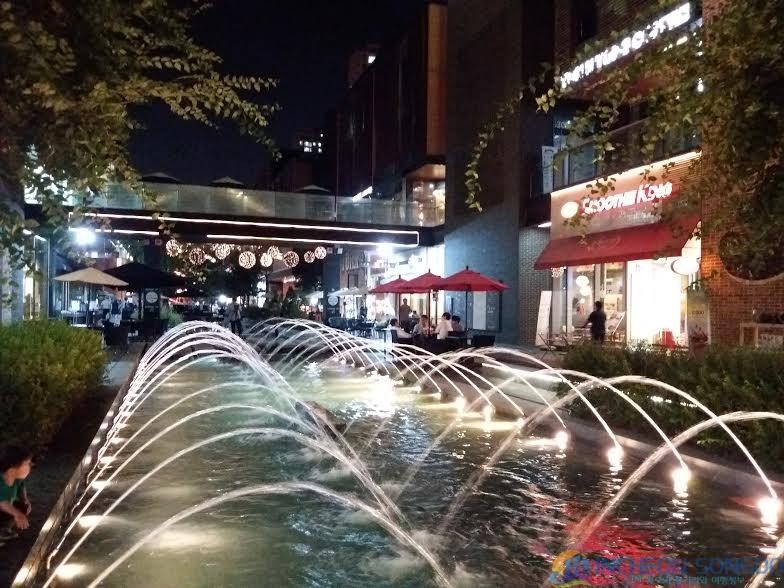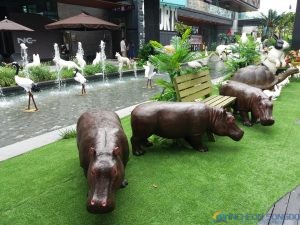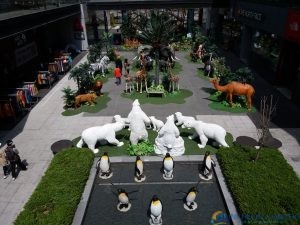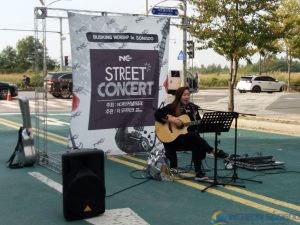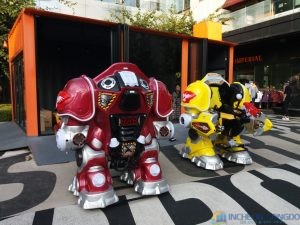 4) Songdo Haonok Village: The village, located at mid west section of Central Park, has a beautiful hotel with a lodging that replicated the Goryo Dynasty bedding and furnishing; the facilities within accommodate business conferences, weddings and VIP meetings; it's expensive, but you will feel like a king/queen of ancient Korea; the adjcent buidlings have  restaurants that boast good foods and spirits; it is a bit pricy but worth it if you are celebrating a special occasion. After a hearty meal, walk over to the coffee shop, order a cup of joe/juice and relax as you take in the view of Central Park.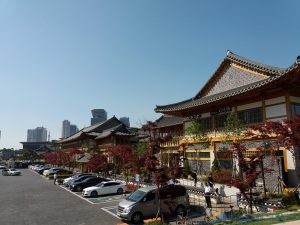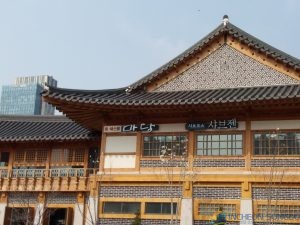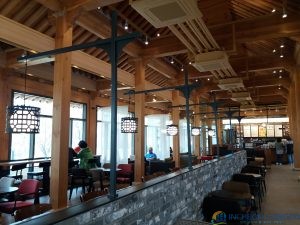 5) Triple Street: Much anticipated mega mall, Triple Street, opened on 4/29/2017. It also has Songdo's very first theater, Megabox, and a large outdoor performance stage. My favorite is the rooftop which has huge playgrounds and photo-op gardens.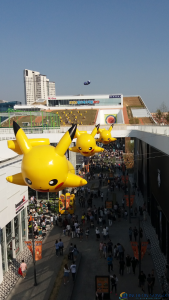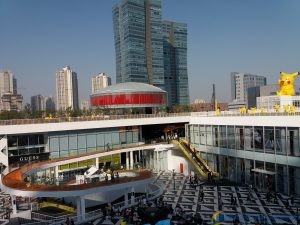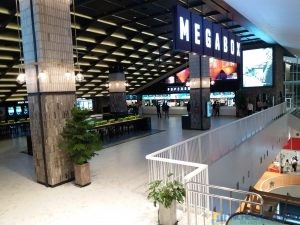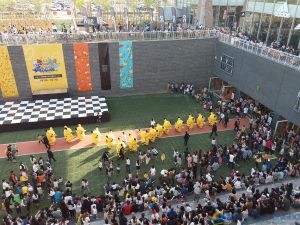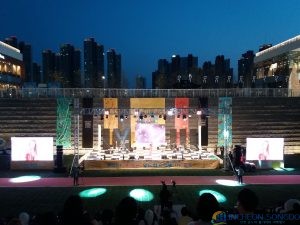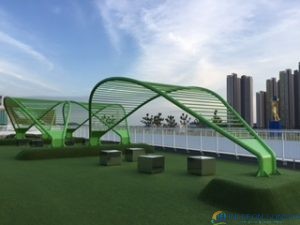 6) Incheon Bridge Observatory (Ocean Scope): The Ocean Scope faces the Yellow Sea and you get a view of the majestic Incheondaegyuo Bridge, one of five top oversea bridge in the world and the longest bridge in Korea. Stay a little longer on a sunny day to catch an awesome view of sunset. The Incheondaegyuo Bridge connects Songdo with Yeongjongdo Island where Incheon International Airport is located (Korean Air Limousine bus takes only 30 minutes to take you from the Holiday Inn in Songdo to the Incheon Airport).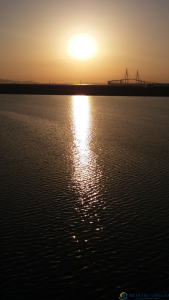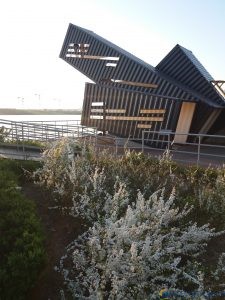 Lastly, stay til sun goes down and enjoy the skyscrapers' bright/playful lights and take a leisurely stroll along Central Park river.