RESTAURANTS
NO tipping! So convenient!
Please, don't tip; it's the etiquette, so that everyone gets equal treatment by the servers.
Japanese/Korean: 
Sapporo (previously called Madang) Seafood Restaurant: A Japanese/Korean fusion restaurant in Hanok Village of Central Park, it offers good combination of sushi/sashimi/Korean specialty entres; a bit pricey, it's my go-to restaurant of choice for special occasions and visitors. I would highly recommend a course meal and advice you to enjoy the meal slowly; it offers a lot of food to satiate your hunger and entertain you visually.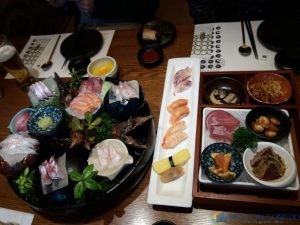 Chinese:
Shangchai: Been searching for the original Chinese black noodle that I used to enjoy so much during my childhood days; I was so pleased to finally finding it in Shangchai Restaurant, located on upper floor of NC Canal Walk's Autumn block. Also the original seafood spicy noodle was very good, with perfect chewiness to the noodles. The Chili shrimp dish with tender prauns and perfect sweet/spicy sauce was yummy.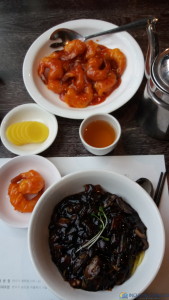 PFChang's: The 7th PFChang's to open in S. Korea, I'm glad one opened in Songdo; it's located in Triple Street; I was happy to find the hot & sour soup and shrimp fried rice to be as tasty as the ones from Chicago; the Mongolian beef tasted pretty good also. Open 11am to 10pm daily. Tel : 032-310-9488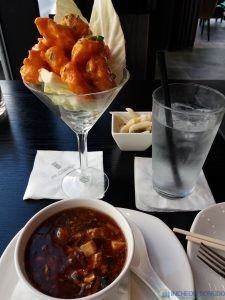 Korean: Unlike the Korean restaurants in US, Korean restaurants in Korea typically specializes in one type of dish.
Kodarinnaengmyeon Restaurant: Kodari Naengmyeon, a very popular cold summer noodle dish with dried fish in spicy sauce. I didn't think I'd like it; but it was so good, I ended up ordering one more! Why the presence of large scissors? The chewy buckwheat noodle can be cut in half or quartered for easier consumption; one can claim himself as a traditional naengmyeon eater and won't dare to cut it with scissors; instead, be proud to use own teeth to grind cut or slurp in the whole string of noodle.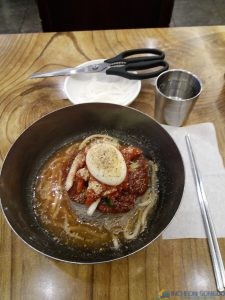 Bean Sprout Hangover Soup Restaurant (Jin-Me-Oak): I happen to dine at this restaurant by a funny chance; firstly, I've never tasted a hangover soup since I'm not a big drinker; secondly, English name of restaurant was mispelled on the signboard (Been Sprout); I went into the restaurant to alert the owner and ended up finding the best tasting bean sprout soup; I guess it's called the hangover soup because it has the effect of a comfort food; kinda-like chicken soup, it was soothing and filling. There are variations of hangover-soup and this restaurant has 3 steps that can be followed. First, flip the soup over so the bean sprouts are on top and the egg can be further cooked; secondly, take out half of the bean spout into a large bowl and top it with side dish vegetables; thirdly, consume mixed rice with remaining bean sprout soup.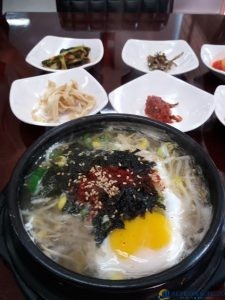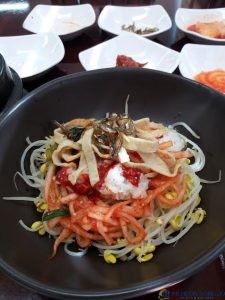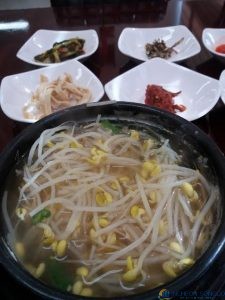 BookChun Handmade Mandu:  Tasty Korean dumplings, potstickers and noodles; try the combination platter of fried and steamed potstickers; it's hand-made daily and claimed to be the best Korean potstickers and dumplings, with recipes handed down for third generations. It's located in Triple Street basement level.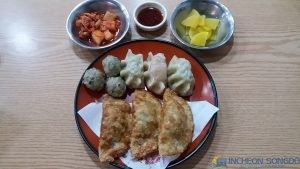 Blue Ocean Bathhouse Cafeteria: I found another one of my favorite summer noodle called Jjolmyeon, extremely chewy cold noodle in spicy red pepper sauce. And I found it in a most unusual place, a communal bathhouse! After sweating it out in the hot stone sauna room, I cooled off my thirst with sweet rice drink and cold, spicy Jjolmyeon.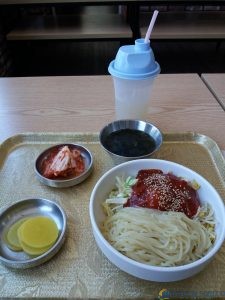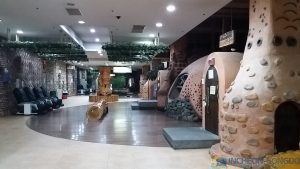 Kkanbu Chicken: Koreans just love, love, love fried chicken! I'm not really big on fried chicken but I searched for the crispy roasted whole chicken that I used to enjoy as a child, served with non-spicy cubed radish kimchi. And I found it at Kkanbu Chicken. My friends order all white-meat fried chicken and I order the roasted one; we scarf it down with cold tap beer. It's located on the second floor of Triple Street.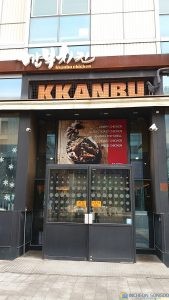 29th Floor Cafeteria of G-Tower: For 5,500 W (about $5.00), you can enjoy a full tray of tasty Korean lunch while enjoying the grand view of Central Park and surrounding areas; I eat in this employee cateferia at least twice a week to consume needed vegetables and meats; it's taste is close to my grandma's flavoring (G-Tower hired chefs to create healthy meals for hundreds of its employees and guests) and it's cheaper than making it myself.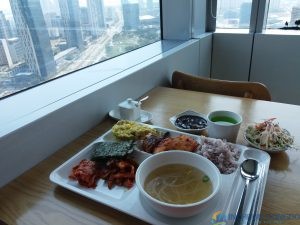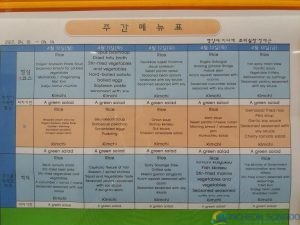 Mexican: There aren't too many Mexican restaurants in Incheon Songdo; still searching for authentic one to recommend.
Banes Taco: If you'd like to try Mexican food catered to Korean taste, try Banes Tacos; there are interesting variations you can try, like this hotdog carnita; Koreans love hot dogs! Banes Tacos is located at the basement level of Triple Street.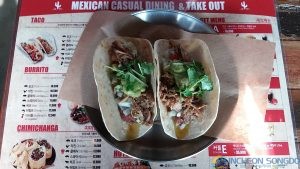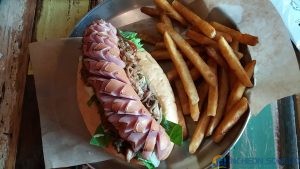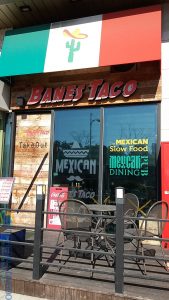 Hamburgers: I found that S. Koreans have varied opinions about burgers; a majority stated that the American burgers are tough  and bland. I found the burgers that S. Koreans prefer are too soft and eccentric.
Burger and Friez (previously named Burger and Pizza):  Enjoy the all-American burger that's as close to the ones I used to enjoy in Chicago; it's located in the basement level of Triple Street.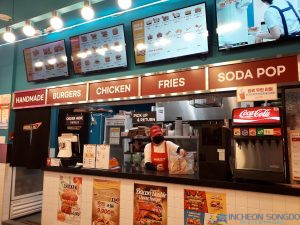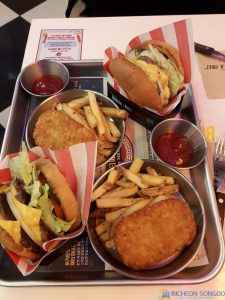 Burgeroom181: You'll find many foreigners dining in Burgeroom181; it is a bit pricey to match the fancy variations, but the bacon burger I had was well worth it.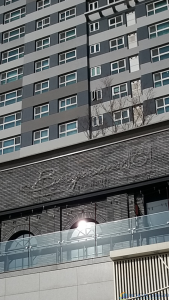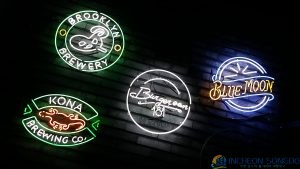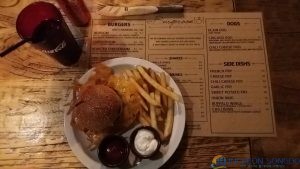 Italian
Impasto: One of my favorite restaurant! Highly recommend making a reservation. My favorite is the lasagna; its perfect combination of cheese and meat, pooled in special sauce, makes each bite delightful. Gnocchi is the other specialty.  If wine is not your preferred drink, try the grapefruit cider. It's located in main level of PrugioCity B condo by the Central Park stream; PrugioCity B is located across from G-Tower.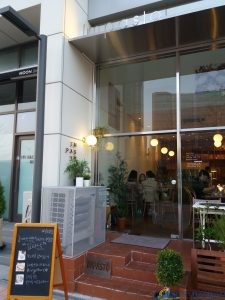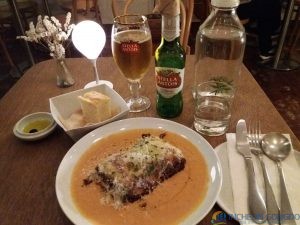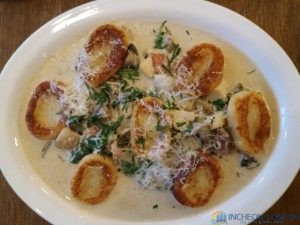 Poolside228: I loved the cool layout; the couch-like seats were a bit hard on my back but the ambience was pretty cool; the pasta was done perfectly al dente to my taste; thin-crusted pizza and naan bread were very good. I'd recommend it for all occasion celebrations.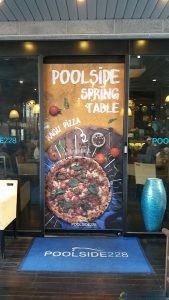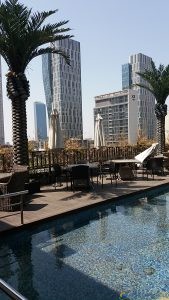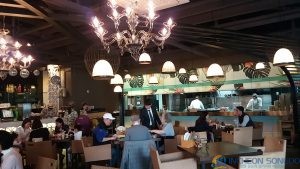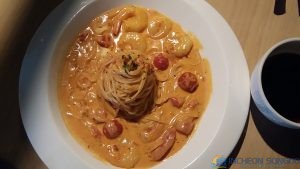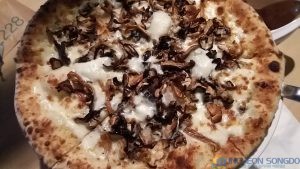 Buffet
The Lounge: Located on the second floor of Home Plus mall, I really enjoy this shabu-shabu and salad buffet restaurant; it offers all you can eat fresh vegetables for shabu-shabu, along with fresh fruits and variety of Korean and Chinese foods; the reasonable price includes dessert bar, coffee and soda; a good place to bring out-of-town guests and children; at one lunch visit, I even enjoyed yummy thin-crusted pizza!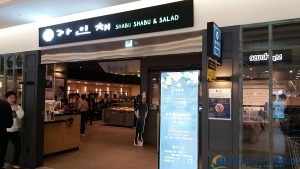 Hotel Restaurants: TBA