BAKERIES
There are numerous famed chain stores such as Tous les Jours, A Twosome Place, Paris Baguette, etc. As you walk around Songdo, try a few other local bakeries; they offer pastries and tender breads with adventuresome taste. Following are my recommendations:
Tokyo Panya: Greentea bun, filled with greentea shu cream, is the signature pastry; I love the multi-grain/cranberry bread; it also has a pretty cafe with good coffee.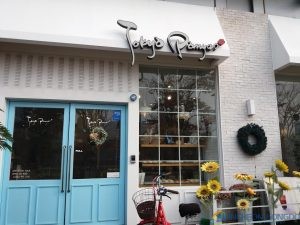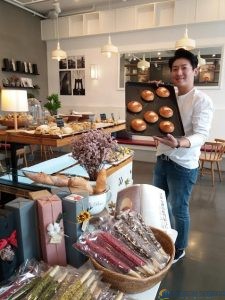 Cing Valeur: A German and French bakery offering sweet pastries/cookies and savory buns/breads; it's famed for Salt Bread; I love the meringue cookies and cinnamon rolls; it has a dainty sitting area to enjoy your cookies and fresh brewed coffee.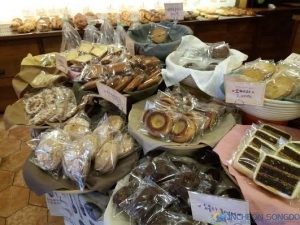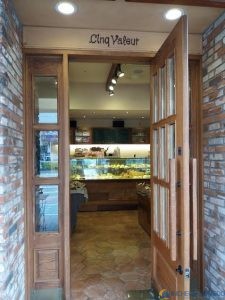 J's Recipe: A European bakery famed for Squid-ink bread; I love the scones and savory breads.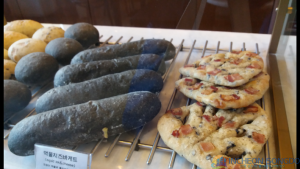 There are numerous rice cake shops; unlike the crispy/popcorn-like varieties in US, the rice cakes are sticky and mildly sweet; if you have dentures, choose more grainy type of rice cakes called Rainbow or Birthday rice cakes, so that you lessen the chance of inability to chew; always have sticky rice cakes with some form of liquid-water/coffee/milk-anything will do, since you can choke on it easity; if you are a diabetic, it has very high carbohydrate content, so be choosy; my favorite is the green Mugwort herbal rice cake.
CAFES
As of April 2017, it was reported that an average Korean person drinks over 500 cups of coffee per year; hence, the coffee baristas galore! You'll be able to turn around the corner and find a coffee shop; a cup of joe will cost anywhere from a $1 at Costco or McDonald to specially brewed $5-7 java with arfully craftged creme on top. I love discovering quaint cafes with unique ambiance; young Koreans like their coffee strong, so if you want it a bit milder, make sure you request it to be mild. Be aware, there's no artificial sweeteners in majority of Korean coffee shops; if you are a diabetic or utilize a sweetnener, bring your own; also, there's no choice of half & half or skim milk available; it's full-fat creamer or whole milk. Instead of usual Starbucks or Dunkin Donuts, venture out to one of numerous coffee shops and delve into variety of coffees and teas.
Cafe La Lee: My favorite cafe, with most scrumptious cakes and a perfect cup of coffee; it's known for English tea party ambience with dainty cups and saucers; it is pricey but worth a trip for special occasions or visitors.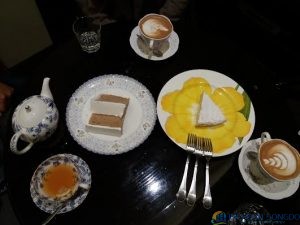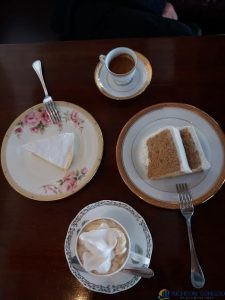 Cafe in Hanok Village: Overlooking the Central Park, seated in a comfy lounge chair/sofa, you can enjoy good coffee/tea and sweet desserts.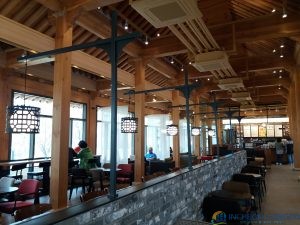 Cafe JARB: A cafe in G-Tower adjacent to the Art Gallery; walk up a flight of stairs by the main lobby desk; it has cute seating areas in and outside the cafe; pricey, strong coffee is served by staff speaking in fluent English.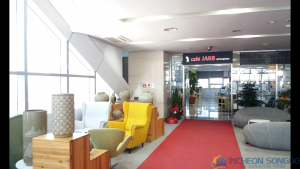 Morning Delight: Found in the Triple Street mega-mall; serves good coffee by the friendly staff.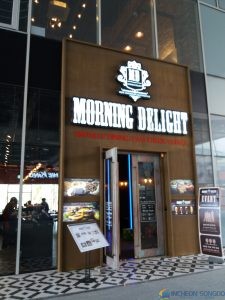 There are so many good cafes with varied price range in NC Cube Canal Walk; try a few as you take breaks in between shopping.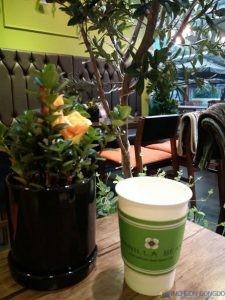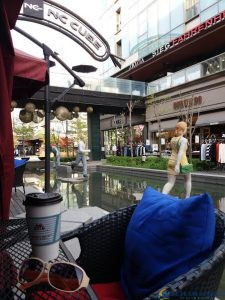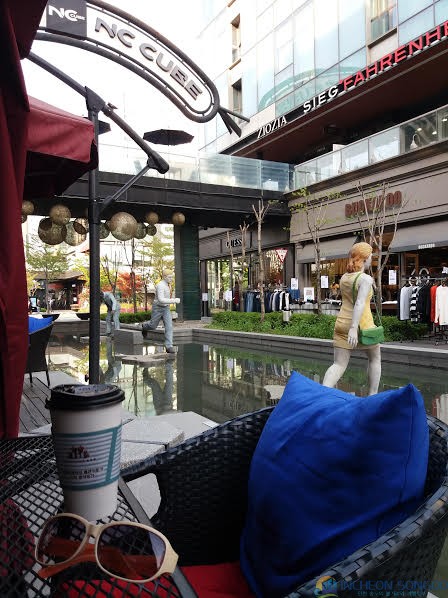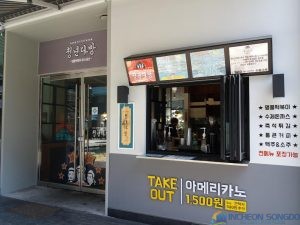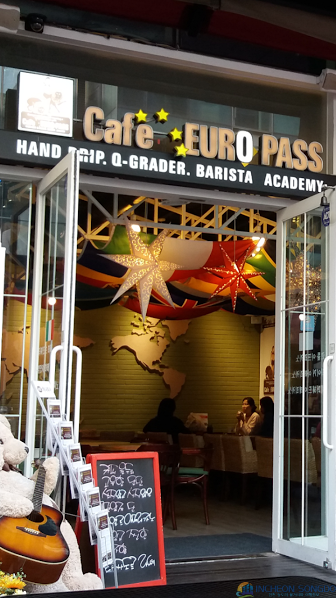 Paik's Coffee: If you want to save few bucks, try Paik's Coffee; Mr. Paik is a food-network gru who opened this chain cafe for frugal coffee patrons;  you'll get an upgrade on size for the same buck.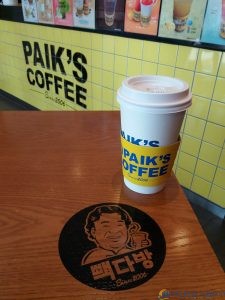 RESTAURANTS
NO tipping! So convenient!
Please, don't tip; it's the etiquette, so that everyone gets equal treatment by the servers.
Chinese:
Shangchai: Been searching for the original Chinese black noodle that I used to enjoy so much during my childhood days; I was so pleased to finally finding it in Shangchai Restaurant, located on upper floor of NC Canal Walk's Autumn block. Also the original seafood spicy noodle was very good, with perfect chewiness to the noodles. The Chili shrimp dish with tender prauns and perfect sweet/spicy sauce was yummy.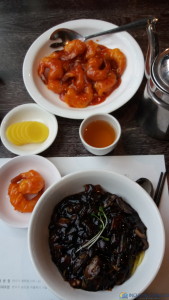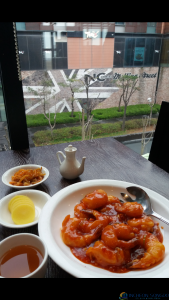 PFChang's: The 7th PFChang's to open in S. Korea, I'm glad one opened in Songdo; it's located in Triple Street; I was happy to find the hot & sour soup and shrimp fried rice to be as tasty as the ones from Chicago; a bit disappointed that the infamous Mongolian Beef was not as cripsy nor as sweet as the one I'm used to.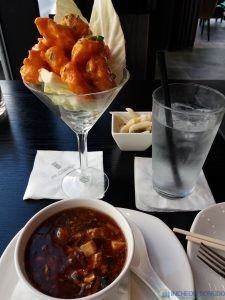 Japanese/Korean:
Madang Seafood Restaurant: A pricey fusion restaurant in Hanok Village of Central Park; good combination of sushi/sashimi/specialty Korean entres for special occasions.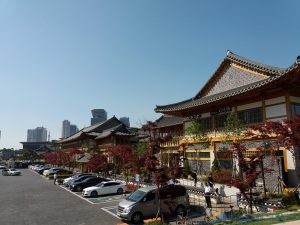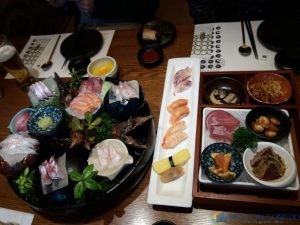 Korean: Unlike the Korean restaurants in US, Korean restaurants in Korea typically specializes in one type of dish.
Kodarinnaengmyeon Restaurant: Kodari Naengmyeon, a very popular cold summer noodle dish with dried fish in spicy sauce. I didn't think I'd like it; but it was so good, I ended up ordering one more! Why the presence of large scissors? The chewy buckwheat noodle can be cut in half or quartered for easier consumption; one can claim himself as a traditional naengmyeon eater and won't dare to cut it with scissors; instead, be proud to use own teeth to grind cut or slurp in the whole string of noodle.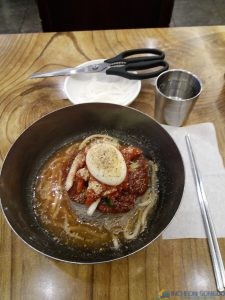 Bean Sprout Hangover Soup Restaurant (Jin-Me-Oak): I happen to dine at this restaurant by a funny chance; firstly, I've never tasted a hangover soup since I'm not a big drinker; secondly, English name of restaurant was mispelled on the signboard (Been Sprout); I went into the restaurant to alert the owner and ended up finding the best tasting bean sprout soup; I guess it's called the hangover soup because it has the effect of a comfort food; kinda-like chicken soup, it was soothing and filling. There are variations of hangover-soup and this restaurant has 3 steps that can be followed. First, flip the soup over so the bean sprouts are on top and the egg can be further cooked; secondly, take out half of the bean spout into a large bowl and top it with side dish vegetables; thirdly, consume mixed rice with remaining bean sprout soup.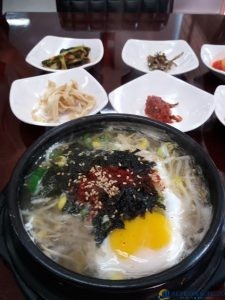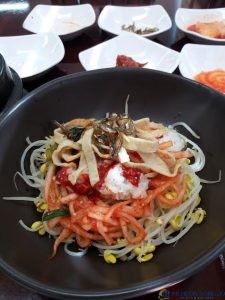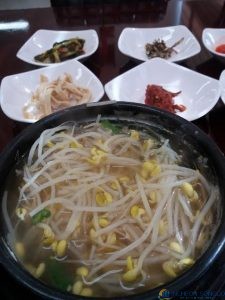 Goo-soo-hahn Sullungtang Restaurant: Sullungtang is soup made of ox bone; if it's not properly prepared, it has an odd odor which I don't like; so this was a good find, since it's the best soup to have when you are seeking some good ol' Korean comfort food; my mom used to make it for me whenever I lost my appetite.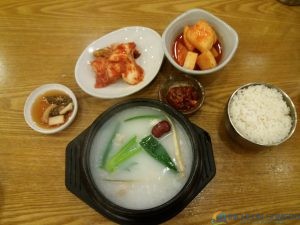 BookChun Handmade Mandu: Pretty good Korean dumplings, potstickers and noodles with serve yourself raddish kimchi; try the combination platter of fried and steamed potstickers.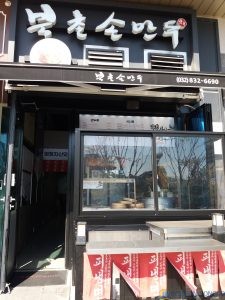 Blue Ocean Bathhouse Cafeteria: I found another one of my favorite summer noodle called Jjolmyeon, extremely chewy cold noodle in spicy red pepper sauce. And I found it in a most unusual place, a communal bathhouse! After sweating it out in the hot stone sauna room, I coolded off my thirst with sweet rice drink and cold, spicy Jjolmyeon.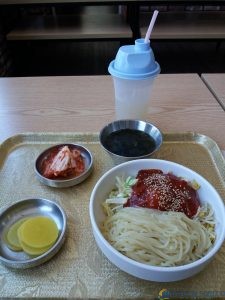 Kkanbu Chicken: Koreans just love, love, love fried chicken! I'm not really big on fried chicken but I searched for the crispy roasted whole chicken that I used to enjoy as a child, served with non-spicy cubed radish kimchi. And I found it at Kkanbu Chicken. My friends order all white-meat fried chicken and I order the roasted one; we scarf it down with cold tap beer.
29th Floor Cafeteria of G-Tower: For 5,500 W (about $5.00), you can enjoy a full tray of tasty Korean lunch while enjoying the full view of Central Park and surrounding areas; I eat in this employee cateferia at least twice a week to consume needed vegetations and meats; its taste is close to my grandma's flavoring (G-Tower hired chefs to create healthy meals for hundreds of its employees and guests) and it's cheaper than making it myself.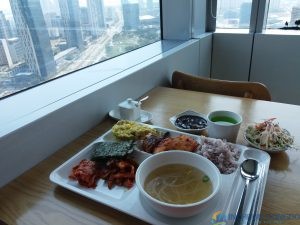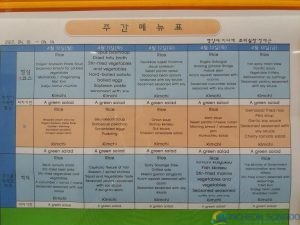 Mexican
La CaSa: I finally found a Mexican restaurant that serve Mexican dishes that I'm used to in Chicago; hard shelled tacos are still absent; I was told that Koreans prefer soft shelled tacos, because hard shelled tacos are too crunchy and feel like eating a snack.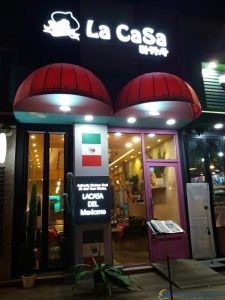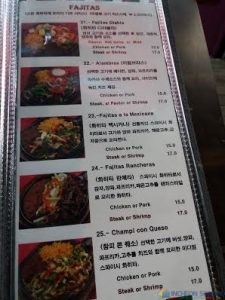 Hamburgers: TBA
Buffet: TBA
Hotel Restaurants: TBA