KAL (Korean Airline Limousine): The Incheon Airport is about 30-35 minute ride on KAL Limousine (it's called the limousine but it's actually a Greyhound-like express bus) #6707B from Holiday Inn Incheon Songdo Hotel; I found it to be the easiest and fastest way to get to the airport; you don't have to fly on Korean Air to ride the KAL limousine; anyone can ride the limousine. You can get a schedule and purchase a ticket from following hotels (cash only) or get one on the bus; on the bus, you'll need the exact change (7,000 Won; bus drivers do not have change) or you can use a transit card.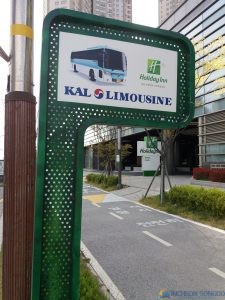 Route of limousine: Incheon International Airport>Grand Hyatt Incheon Hotel>Korea Coast Guard>Orakai Songdo Park Hotel>Central Park Hotel/Gyeongwonjae Ambassador Incheon Hotel>Holiday Inn Incheon Songdo>Incheon National University Station>Oakwood Premier Incheon>Sheraton Grand Incheon Hotel
Be advised: If your flight is during the peak hour, consider taking a short taxi ride to these pickup destinations—Orakai Songdo Park Hotel/Central Park Hotel/Gyeongwonjae Ambassador Incheon Hotel/Holiday Inn Incheon Songdo Hotel; there are more available seats at these destinations, since the new route starts from Orakai Songdo Park Hotel; if the bus is filled, you'll need to wait for the next bus.
Transit Card: The transit card is a reloadable card that can be used to ride on buses, taxis and subways. It's a convenient way to pay and easy to reload. You can get a reloadable card at any convenience store, such as CU or 7-Eleven.
The reloading machines at the subway station takes only cash and it only takes bills of less than 10,000 Won; these yellow Bill Exchange machines are available to change large bills into 1,000 and 5,000 Won bills.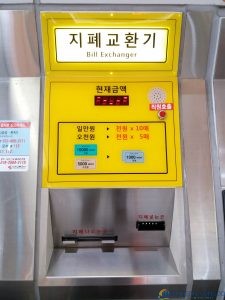 At subways, you can purchase destination tickets or reload the transit cards via this machine.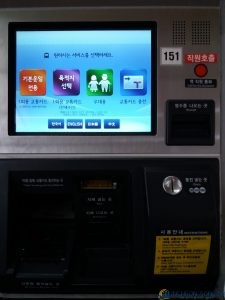 When you purchase a destination card, the transit deposit of 500 Won is automatically added; but, you can get it refunded via this machine; just insert the transit card after usage and you'll get the deposit back; so many travelers purchase the destination cards and discard them after usage, essentially throwing away money.
Local Bus Transportation: Bus fee: Adult=1,300 Won; Teen=900 Won; Child 500 Won; the fare is a tad bit cheaper if you utilize a transit card; after using cash for awhile and having the bus drivers annoyed with me trying to figure out Korean money, I finally got a transit card.
I love the electronic notification board! Almost all bus stops have these posts. It announces what bus and what time it will arrive; most Koreans use the bus app on their mobile phones; if you don't have a bus app, this board is very helpful.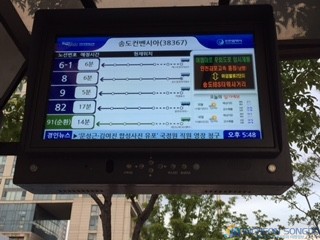 The bus drivers are on a timed schedule; hence, many bus drivers can be a bit cranky. Before you board the bus, have your fare/transit card ready and know your destination. The majority of bus drivers do not speak English. There are two kinds of bus: One with one entry/exit at front and the other with entry in front and exit in back; if you board a bus with two entry/exit doors, make sure you exit out of the back exit door; otherwise, you'll get a loud scolding from the bus driver (it's an etiquette to make way for the riders entering). Also, reapply the bus card on the charge machine as you exit. If you pay with cash, the bus driver will ask you for the destination; the fare increases with how far your destination is.
There are two buses that reach Seoul in one and half hour from Songdo Incheon; it's less complicated than taking the subway. Bus # M6405 and  M6724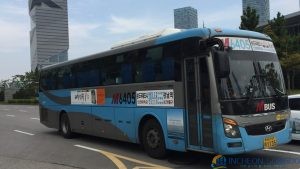 Subway: The Incheon 1 Line will take you to Techno Park Station, which is connected to the Hyundai Premium Outlet Mall in the basement level; get off at the Central Park Station to reach the Central Park, Costco and G-Tower.As an avid reader and a fan of library, I was pleasantly amused to find these little libraries in the subway waiting areas. The flyer on the wall says, "A space to be shared with a book: Read a book rest center."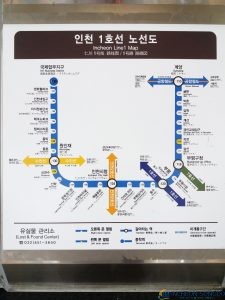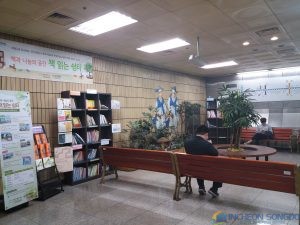 Public Bicycles: There are these yellow bicycles (OBike) all around the city and parks. Just download the OBike app, scan the QR code, pay and ride to your destination.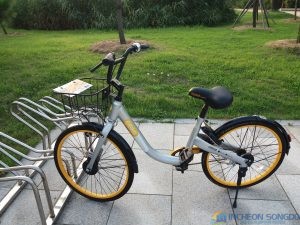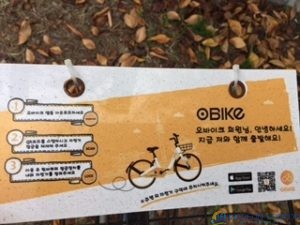 KTX (Korea Train eXpress) Train: Projected to be finished in year 2021, the KTX train (bullet train) will connect Songdo Incheon to Busan and Seoul. I don't have a car, so taking the subway/bus to Seoul to take the KTX to Busan is cumbersome; so I look forward to the convenience of having the KTX right in Songdo Incheon. For now, the empty KTX station stands like a haunted grand mansion.