Incheon Travel Information Center:
Take a moment and visit the travel information center, located at southwest end of the Central Park; not only are the staff friendly and helpful (fluent in English/Chinese/Japanese), you'll find incredible amount of travel brochures and maps of Songdo and the neighboring Incheon City.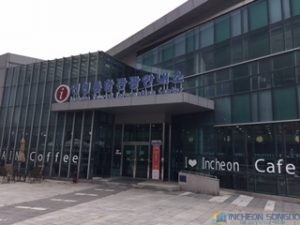 Incheon City Tour: Purchase a day pass and board a self-tour sightseeing bus to explore pre-selected Incheon City & Songdo destinations and neighboring Yongyudo Island; you can get on and off the bus at your leisure time (you'll get a map and a time schedule of bus). For about $5.00, you can enjoy both the Island Line and City Line which explore the city of Songdo and Incheon. For about $10.00, you can enjoy all three Lines: The Island Line, City Line and Ocean Line (explores Yongyudo Island). Check out the Incheon Tour website to see the Line routes.
Incheon Tour website : www.incheoncitytour.com
(Tour announcements are available in Korean, English, Chinese, Japanese and Russian)                     ☏ (032)772-4000