Triple Steet 2023: All restrictions of Covid has finally lifted! Come and enjoy a full day exploring activites for all ages and taste variety of ethnic foods at Triple Street. You can crossover to the connected Hyundai Outlet and shop or enjoy weekly updated activities.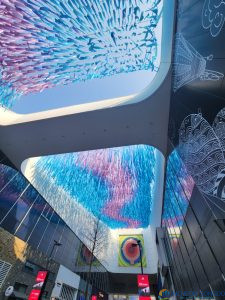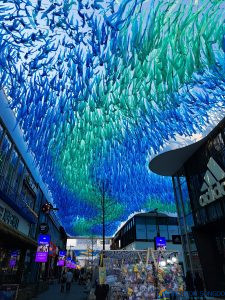 Triple Street 2022: Two years of Covid have gone by and many changes occurred in Triple Street. Many clothing stores left, replaced by new restaurants and pubs. It's the go-to-place for students,  young couples and families on weekends. If you want more leisurely walk about and shopping experience, visit during the weekdays. If you want to be with the crowd and enjoy special events and street vendors (Songdo Market: Handmade crafts and specialty items such as pet clothing), visit on the weekends (Fri-Sun).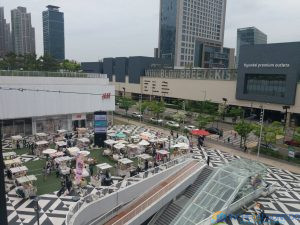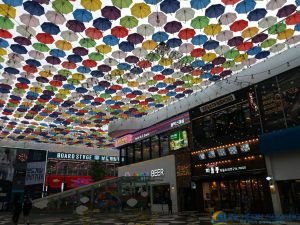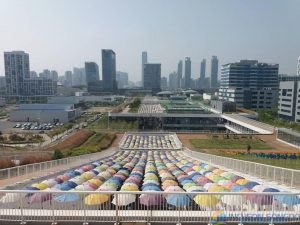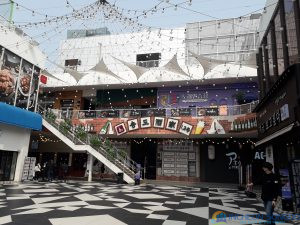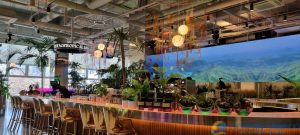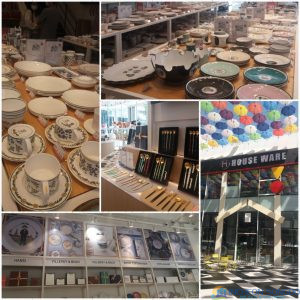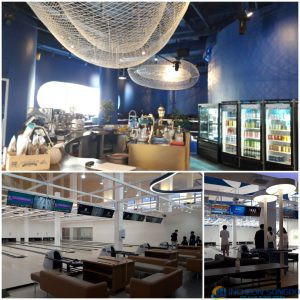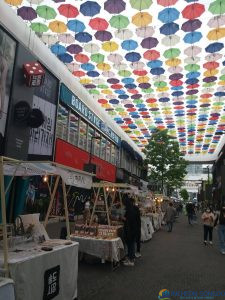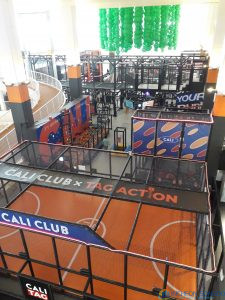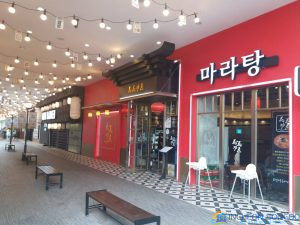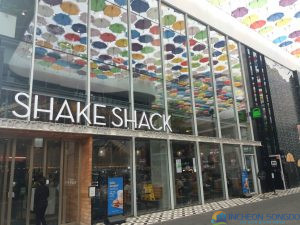 Triple Street 2020: The year of 2020, a very difficult year for everyone with Covid19. Triple Street had many retail stores close down. However, Triple Street manages to regain young patrons to visit and be entertained as new restaurants, pubs and entertainment sites such as a bowling ally open up.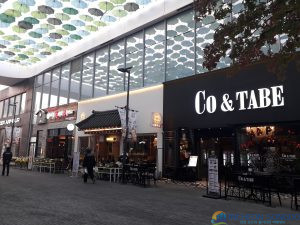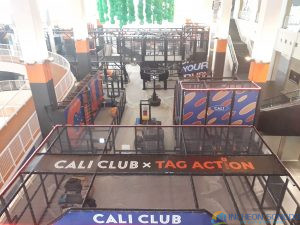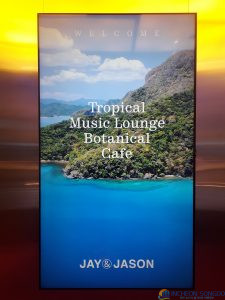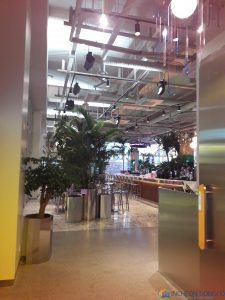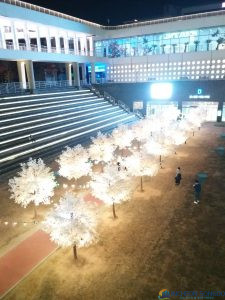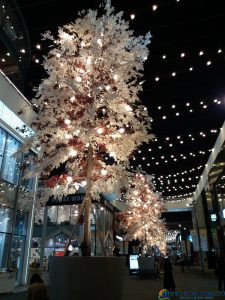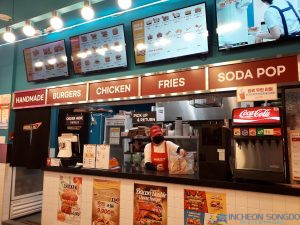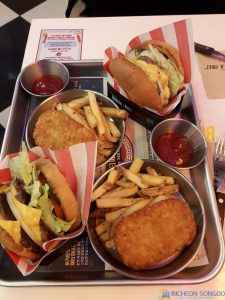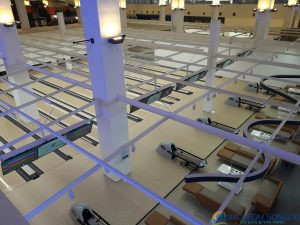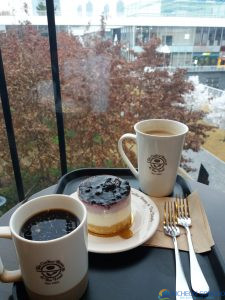 Winter 2019: I'm visiting my home in US to be with my family during the holiday season. I miss the foods and ease of traveling without a car in my second hometown, Songdo. I'm sure the winter entertainments are on full-force. Took this picture just before I left as new restaurants were booming with bustling shoppers and foodies.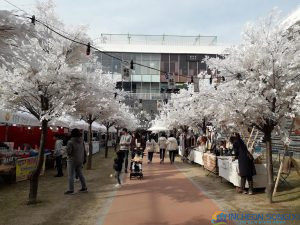 Fall 2019: Fall festivities are in full swing; handmade crafts delight visitors as they stroll in and out of Triple Street lower and upper decks (Vendors are present only on weekends and holidays).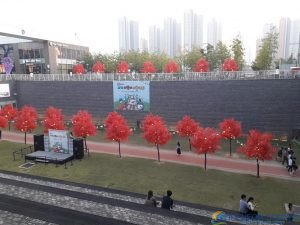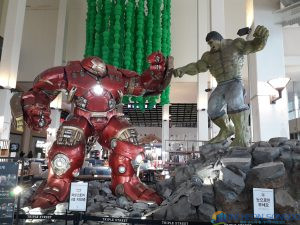 Check out the game room, filled with nostalgic games of your childhood days (located nearby MegaBox Theater).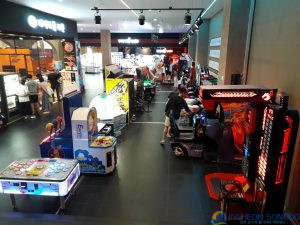 New restaurants and stores have visitors return to Triple Street regularly. Modern House is a home-decor/appliance store that I really enjoy shopping at. You can find all things you need for your home at a reasonable pricing. It's located at the basement, by the entrance of connecting hallway to Hyundai Outlet.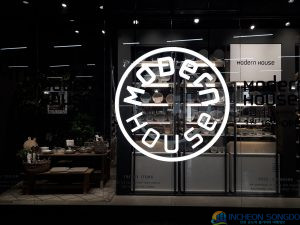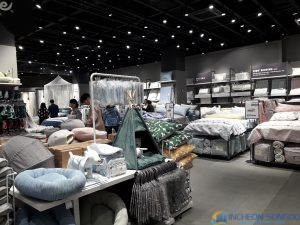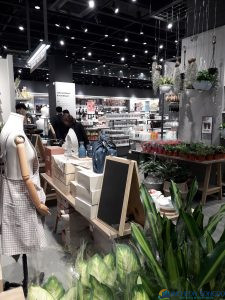 Summer 2019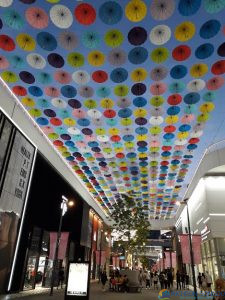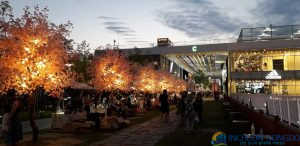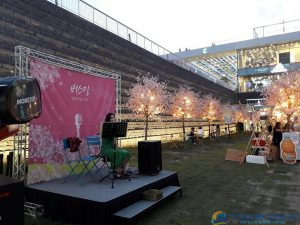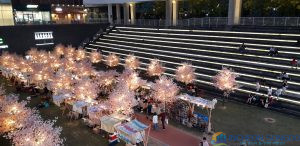 New stores and restaurants are popping up everywhere; new sports store, Decathlon, is a hit!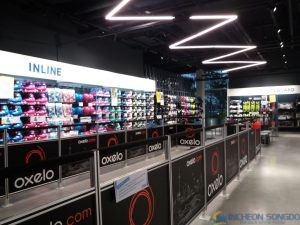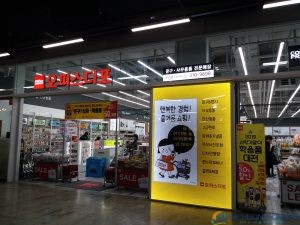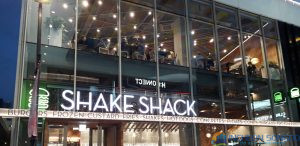 Spring 2018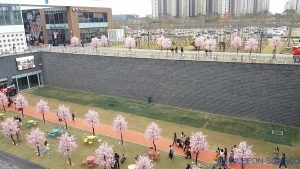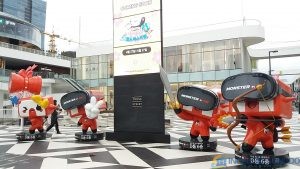 Triple Street
Much anticipated mega mall, Triple Street, opened on April 29, 2017. You will experience different kinds of shopping and entertainment compared to NC Canal Walk and Hyundai Outlet Mall.
Triple Street has four buildings labeled A, B, C and D; all buidings are connected at the basement level, with fun pathways in between the buildings; the building A connects with an entry to Hyundai Outlet Mall. Triple Street has the triple-the-fun motto at three levels: Underground, ground and roof-top.
The opening day, centered on Pokemon theme, drew hundreds of families with children and, or course, Pokemon fans of all ages.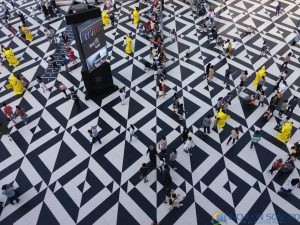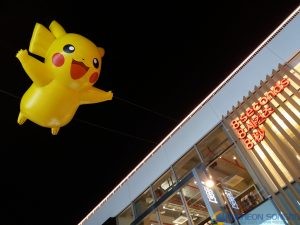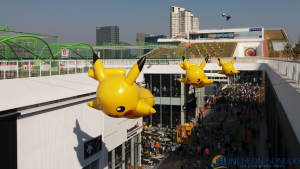 Follow the orange spongy road! It will lead you to the upper level where numerous restaurants are located and its path is continuous from east to west end. On the ground level, you'll have to cross three streets. Don't forget to go up one more level up to the rooftop to enjoy the playgrounds and gardens.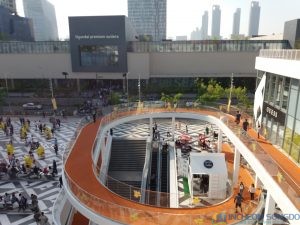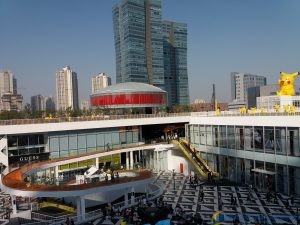 You'll enjoy brand-named retail stores, numerous cafes and restaurants. Also, enjoy Songdo Incheon's very first theater, the Megabox Theater.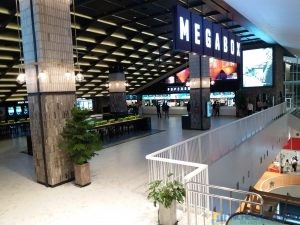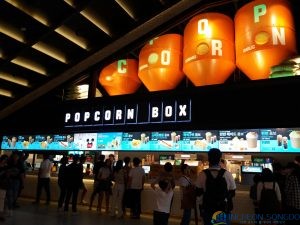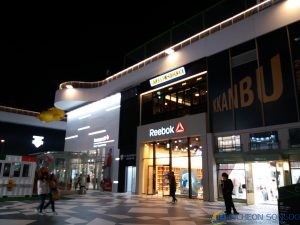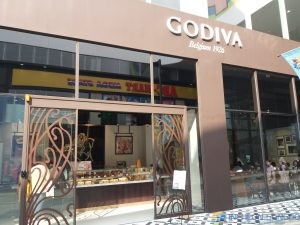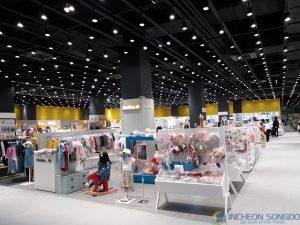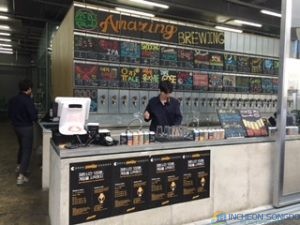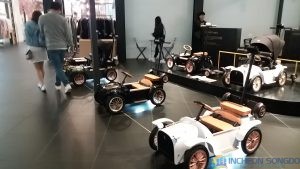 I was delighted to find one of my favorite restaurant, P.F.Chang's, the 7th P.F.Chang's to open in South Korea.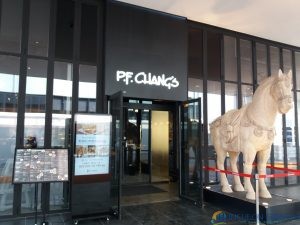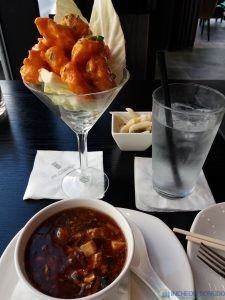 The Triple Street proudly presented a large outdoor stage, promising performances that will entertain all ages. I sat under the starred sky and enjoyed the sound and lights of opening concert.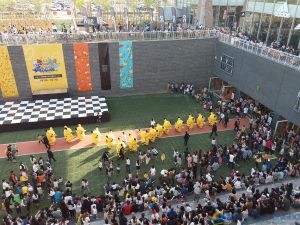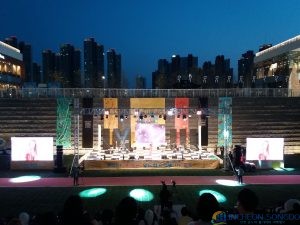 My favorite section of Triple Street is the rooftop. The playgounds, gardens and winding walk-paths have so many photo zones. And come and check out the new salad bar buffet located at the highest edge with a panoramic view of Triple Street.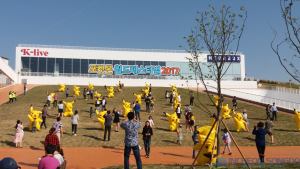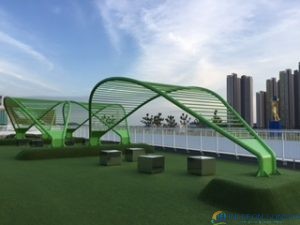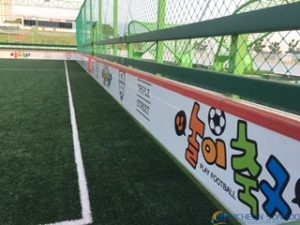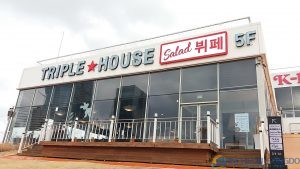 Don't miss the foods and fun in the basement level; it's definitely a haven for all foodies. I discover new stores and restaurants every time I visit; this time I found a huge book store, Daiso (Dollar-store-like discount store) and archery/shooting range.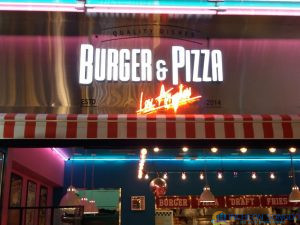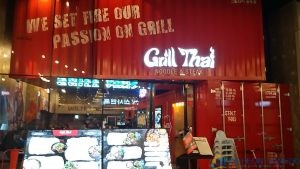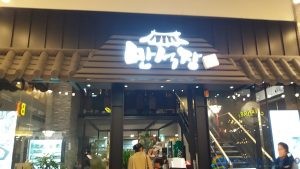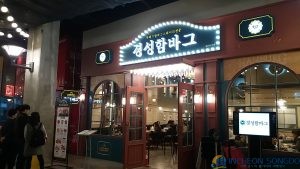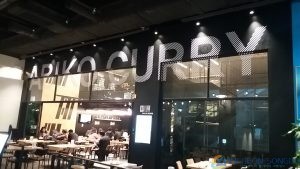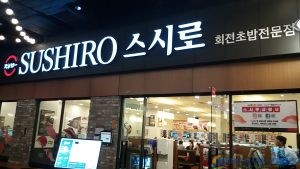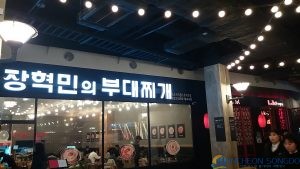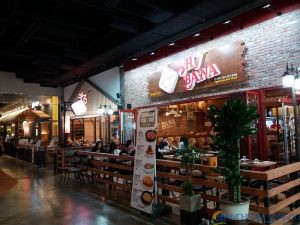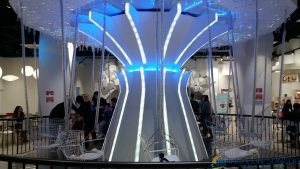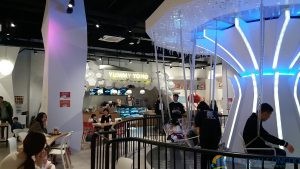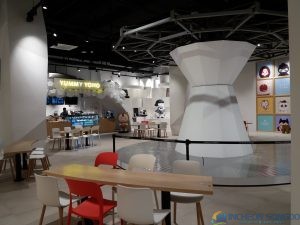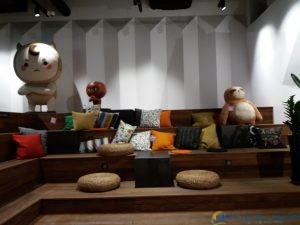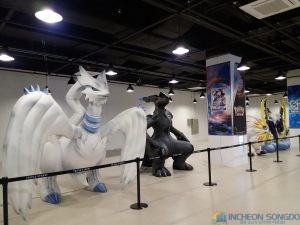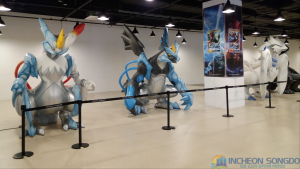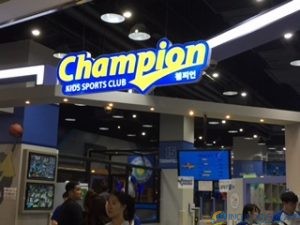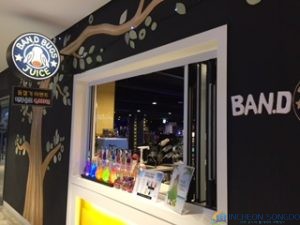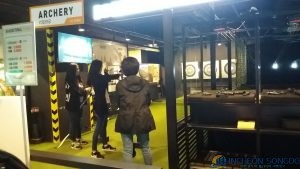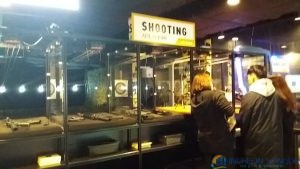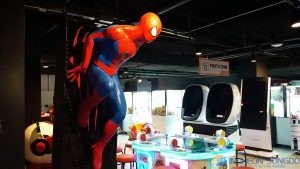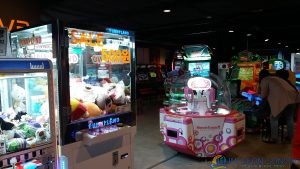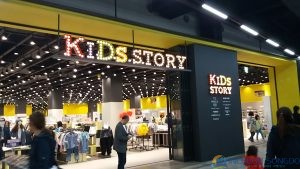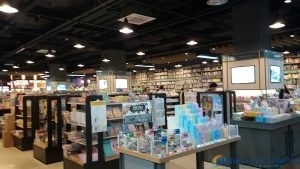 Got energy left? Just walk across over to Hyundai Premium Outlet via a fun pathway in the basement level or just walk across on ground level.